Bhakdar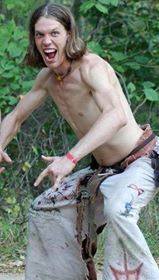 Full Name: Mekoot Bhakdar
Current Home: Bend, OR
Date started Fighting: Belegarth April 2001, Amtgard 2003
Date of Warlord or KSw: Not Belted (Belegarth)
Best Skill: S&B, Florentine, Gangliness
Handedness: Right

More info: Bhakdar's Belegarth wiki
Anything else: Headhunter 2003 (Belegarth title). I teach by emphasizing solid understanding and development of basics. I read fighters well but am more based in instinct than analysis while fighting. I have a lot to learn about Amtgard footwork, combat analysis, and minimizing necessary motion!

FWACK Comments: This is the third year we have had non-Amtgard instructors and also Bhakdar's third year teaching. His knowledge and enthusiastic teaching style are a great addition. He is one of Belegarth's leading teachers and even took a summer off to travel around Bel parks teaching foam fighting.
Classes